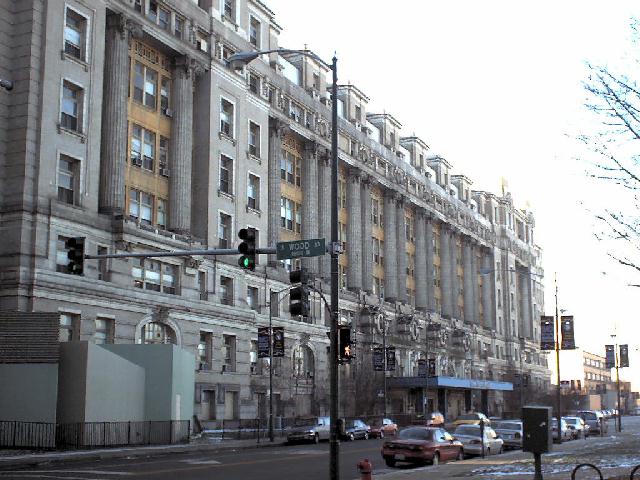 2003 NB
At the end of 2003, when this picture was taken, Cook County Hospital was still standing. Preservationists had convinced City Council to wait at least until January of 2004 to authorize the hospital's demolition, but were losing hope that the city would agree to let a developer rehabilitate the historic structure.

When the building falls, Chicago will have lost a unique piece of its history. With its grand facade, diversity of patients, and advances in treating burns, sickle cell anemia, and yes, emergency room patients, the hospital had etched its place in history even before the producers of "E.R." chose it as the supposed site of their now landmark hospital drama. ("E.R." comes to Chicago about four times a year to shoot outdoor scenes, but the building itself is not used in the show.)

A new county hospital, opened nearby in December of 2002, has everything its predecessor (and the "E.R." crew) didn't: gleaming surroundings, high-tech equipment, and plenty of room. But only the old County embodies the grittiness and gutsiness of the kind of life-saving celebrated in the hit TV program and practiced here throughout the twentieth century.

-NB


-Blair Kamin on the uphill battle to preserve County Hospital.
-Official site of "E.R.".